Every month I will highlight a Black artist, form of entertainment, business, or social media personality to help to spread awareness of Black Excellence. Be sure to check here on the 2nd of every month!
A couple months ago one of my friends sent out a plea for some Black-centered products for her young daughter. When I couldn't think of anything I got to thinking, why is it so hard to find affirming stuff for a Black child? I know I would've appreciated it. Where are all the toys for Black kids? The books? The clothes? How can we expect kids to learn about their heritage if we don't have the tools to teach it to them? Why not take some of those hundreds of dollars we spend on Christmas and birthday gifts and give that to a black business? With these questions in mind, I decided to take this month to highlight a number of products designed to empower, encourage, educate and entertain Black children and the places where you can find them. So take notes, you may can get all of your Christmas shopping done right here. (S/O to Afro Arts for introducing me to most of these)
While you can surely find merchandise based off shows like Doc McStuffins and some of the other spotlights I have introduced you to have created Black dolls, I decided to highlight two particular stores for the first set of products: Black toys. First is the many dolls of Natural Girls United. These dolls come in a variety of shades and hair textures that reflect the multiplicity (look it up) of Black girl appearance. The majority of these dolls range from around $45 to $90 (a little higher for the "high end" dolls), but when you consider the personalized styling of each dolls' hair AND how much we spend on non-affirming toys, I think that investment is a little better.
The second toy company is called HIA Toys, or History in Action Toys. Each of the HIA toys is about $25 and features a Black historical figure in fully posable, action figure form. Pictured here is Benjamin Banneker, a famed Black scientist. Don't fret too much that these aren't the newest Avenger action figures; if the kids in your life are anything like me they could make the most fun out of whatever toy you give them. Why not, then, give them one of these so they can enjoy them AND learn from them?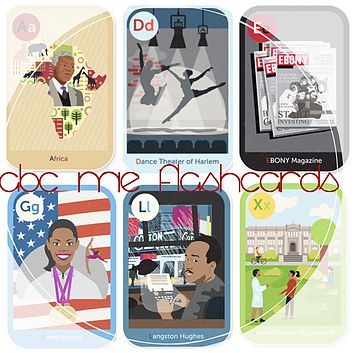 Speaking of learning, there are also quite a few products dedicated specifically to teaching Black children. Take for example the ABC Me Flashcards. Created by Leilani Brooks and Stevi Meredith, these informative flashcards are used to teach valuable historical facts and figures from Africa to Zora (Neale Hurston). These flash cards come in a sets for $15 each and are perfect for teaching children about how Black history stretches far past slavery and how Black future is being made today.
Black history and future even extends beyond the language barrier. Mirta Desir and Harold Jean-Louis joined forces to create Smart Coos, a computer program designed to maximize on that golden first 2000 days of life (from birth to about age 4) in which it is easier for children to learn a new language. Smart Coos uses private tutors, interactive programming, and instructional methods literally so easy a child could understand them to teach young children sign language, French, Mandarin, Spanish, or English. Given the fact that the world is moving to a place where multilingualism really pays off, AND that Blatino and Blasian (look them up) kids exist, Desir and Jean-Louis' product is right on time.
Another thing that's always on time is books dedicated to Black children. Admittedly I could really go on forever about this, but for the sake of time and space I've just looked at six books. Penny and the Magic Puffballs was created by Alonda Williams to empower her daughter, who often felt out of place as the only Black girl in her classes. This book is just one of many that are designed to get young Black girls to love their hair. Brothers of the Knight is another book that encourages children, as this Debbie Allen penned work is all about twelve brothers with a love of dance. The carefree nature of this is especially important to battle the way Black boys are perceived both in the book and in the world. Shades of Black is an award winning book by Sandra L. Pinkney that celebrates all sorts of Black children. While the other two picture books are based off fictional children and situations, the photographs of actual Black children in this text may be even more empowering for young readers.
The last three books here are for children a little older, or at least ones with a little more advanced reading skills. The Hazelwood High Trilogy of Tears of a Tiger, Forged by Fire, and Darkness Before Dawn by Sharon M. Draper are not only some of my personal favorite books, but also great ways for Black teens to see themselves and maybe even their issues reflected in a book. Though the most recent of these books is still over 13 years old, I can say that they still resonate with young and old audiences and their value will no doubt still continue.
First of all, can we just talk about how adorable these kid models are? It's almost enough to give you baby fever (almost). But anyway, even though I've done plenty of spotlights on Black clothing stores, these particular ones are centered on clothes and accessories for Black children. First you have the B2 Line of PRSVR with the street/urban wear (where you pay urban wear prices) and Yinibini Baby with clothes for your infants and toddlers along with vital tools like bibs and wipes (you would have to go elsewhere for diapers though). Then when your child gets a little older you can get them formal wear like Pantora Mini's gorgeous dresses and bowties from the Beau Tie Boy. All of these stores have fairly reasonable prices, and if the child in your life looks half as precious as these kids do it will be more than worth it, much like most of the stores here.