Every month I will highlight a Black artist, form of entertainment, business, or social media personality to help to spread awareness of Black Excellence. Be sure to check here on the 2nd of every month!
August means school. We all know it: it's when our summer nights become all-nighters and we return to the books and projects and education in general. So it only makes sense that I take August to spotlight a young woman dedicated to education. Meet Airnecia Mills, the Owner of Mills Academy in Greenville, MS. Ms. Mills noticed certain trends in education back at home and decided to do something about it. Check out her interview below to learn more about how Airnecia's passion for learning has led her to become a fast success and a staple in the Greenville community.
M. Haynes: Hey Airnecia!
Airnecia Mills: Hey! (laughs)
M. Haynes: You're always so happy. How do you maintain such a positive demeanor?
Airnecia Mills: Thank you! You know nothing beats a smile. I have to keep myself motivated and encouraged, and when you smile you just feel good. It makes you and someone else feel better.
MH: Advice to live by. I mean, it's certainly been helping you for a while. Talk with us about how you got to this place, specifically through your Alcorn experience.
AM: My Alcorn experience was really good; I wouldn't change it for anything. It was a learning experience too; I was very active and met so many people there in 3 years*. It was at Alcorn where I learned to smile even on the worst day.
What were some of the things you did at Alcorn?
Well I cheered and was a student ambassador for one. My senior year was probably my best and most active year because I was Miss Alcorn and became an AKA. All of these things taught me and molded me to who I am today.
How did Alcorn mold you?
Each experience there was a different one with a different impact on my life. AKA, for example, taught me how to be a part of an organization and how to work in a group. Miss Alcorn taught me to be myself, and cheering taught me multitasking and how to prioritize. It all taught me to move forward with a smile and to be a stronger person. You never know what you are capable of until you push yourself.*
Tell us more about Mills Academy.
Okay. Well when I left school I know I wanted to come back and give to my community. I started teaching in Greenville and I noticed how the children were struggling. I tried to think of the best way to help them, and I came up with an after school tutorial center. Mills Academy is a place for children to get test prep, homework assistance, tutoring, the works. I wanted to be able to help the children in this community.
Was it hard to get a project like this off the ground?
No, not really. My family was very supportive of my idea. When I first brought it to them everyone said it was a good idea, so a lot of my family helped to put in some money.
How did you know what to get the money for? (laughs)
I researched a lot of other centers and compared what I wanted for my center to them. I had to find a way to really adapt what they were doing for the Greenville community.
Were there any major things you had to change to make Mills Academy work at home?
I didn't want it to be so expensive. Although of course, (laughs) I do have to pay the bills, I didn't want it to be too much money. Above all I want Mills Academy to be affordable and a place for a diverse group of students to do community service, learn stuff, and have fun.
Can you talk us through a regular day at the Academy? I'm sure many people would wanna know how things happen there.
Sure! Okay, the students usually come in and take out homework. Everyone has an hour and a half session, so doing that time they do their homework and get help with it. We then try to help the students practice on what they don't understand.
So you, or whoever, just teaches them for that time?
Yes and no. I try to bring in programs and teachers that really help the kids. Like I bought this program from IXL.com to get them to use technology in the Academy. The students like it because they think it's fun, and I like it because it helps teach science, social studies, math, and I can do workshops with it.
That makes me think of another question. Do you face any challenges in your instruction at the Academy? Any things you have difficulty with?
My most consistent difficulty has been finding certified teachers willing to help out. I want people who can really help the students and are dedicated to it. Sometimes teachers have so much to do already that they can't really dedicate a lot of outside time
I understand that. When you finish in the class the last thing you wanna do is more teaching (laughs).
Yes (laughs). Another thing is that I want to help students of all ages, from Kindergarten to college, so it gets even harder when you have to find teachers who are able to help college students, especially with stuff like Math, Chemistry or Physics. I'm certified in 1st grade, so finding those higher level teachers is hard.
So why go through this? Why is it so important for you to add so many things and do so many things at Mills Academy?
Because Greenville is my foundation; it's where I started. I had teachers and role models in Greenville and I feel like I should be the same for other people. I want to be that person giving back; we don't have that in the Delta at all. I especially wanna give back with reading and Math. They are so MAJOR, so important. Students get frustrated because they cant read, and if you can't read you can't really do anything. Math is a struggle too, but not as much as reading. We have to find different ways to teach these subjects so that our students can learn them and I want to be a part of finding them.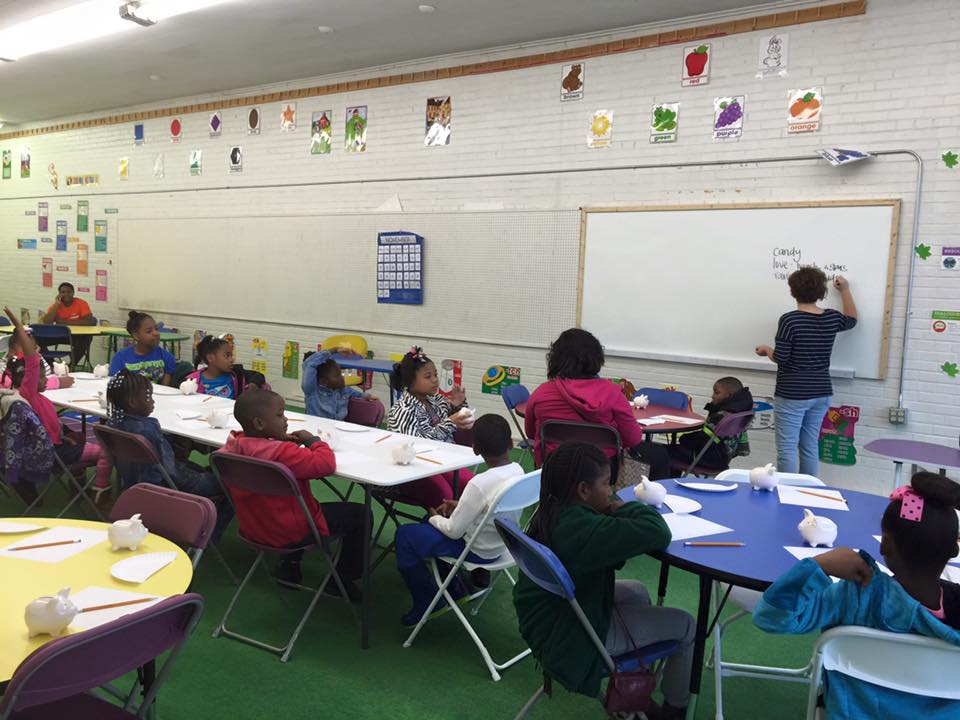 Mills Academy does more than just tutor, though. What are some of the other services and events that you provide?
One big thing we do is free ACT prep. We have a class, usually the Saturday before the ACT is offered, where we help students get ready for the test. Thanks to a few sponsors we're even able to give them notebooks, pencils, and other supplies to do the best that they can on them.
That's awesome!
Yeah, those are really successful. It goes back to what I said about reading and math, that really affects the students when they take these tests so any help they can get is good.
I've also seen some fliers for painting events.
Oh yeah! We like to have different fun events, like painting and movies to give our children something to do. You know there's not a lot for Greenville children to do.
I do (shakes head).
Right. That idea came from when my family went to a painting class, it was so fun! So when I started the Academy I kind of thought, "Why not bring this home?", so I did. I did it with the children first, and when that really took off I made another event for the adults.
Were there any differences in the two?
Our adult classes are a little more...adult (laughs). They become Paint and Sip nights. But both of them are actual classes. Like in the adult one we learned about blending colors.
That is actually really cool. It seems like you give so much back that people need in our community.
That includes the scholarships.
That's exactly where I was going. Talk about the scholarship event.
So around my birthday this year I decided to give to and help others instead of myself. I set up a scholarship fund for high school seniors and make a banquet where I would give the scholarships out. I planned to give out twenty four scholarships, but it was all really depending on the support I got. It was a little hard to get sponsors, but I found some people who were willing to help and we made it happen.
How did you decide to give out the scholarships?
There is an application process** and some requirements. You have to be a high school senior in Washington County and the scholarships are based off an essay topic, your ACT score, and your GPA. I also gave out different levels of scholarships, from $1,000 to $240. I wanted to give as much out as I could to help the children here achieve what they want.
Okay last few questions. What is your end goal? Where do you see Mills Academy going in the future?
I can see Mills Academy going very far. I plan to continue to work hard to reach out to students near and far and impact their lives; helping them to reach their highest potential and succeeding academically. In the future I desire a Mills Academy franchise, where there are Mills Academies EVERYWHERE!
Amazing! I know that you will reach it one day. Do you have any last comments or advice for the readers?
I just want to share that prayer works. If there is anything that I desire to do I pray about it and go for it. It is so important to motivate and encourage yourself, because there will be people that doubt you and don't believe that you can do it. You have to remember that you can do ALL things through Christ! Stay positive, remain motivated and do what makes you happy. Follow your goals and dreams and the Lord will give you the desires of your heart. Lastly, whatever you are passionate about, continue to be the best at it!
* = Airnecia graduted from Alcorn State University in three years thanks to the hours she took. Thanks to finishing college so quickly, she was also able to immediately start Master of Arts in Elementary Education program that she finished in 2015.
** = Airnecia plans to continue the scholarship program annually, raising the number of scholarships with her age. To get an idea of what Airnecia asked for in the initial scholarship application, look here, and be sure to share it with any students in Washington County you know. However, be warned; Airnecia says that the essay portion is what sets a lot of students apart.