Every month I will highlight a Black artist, form of entertainment, business, or social media personality to help to spread awareness of Black Excellence. Be sure to check here on the 2nd of every month!
Last October I attended my first book festival as an author, the National Black Book Festival. While I was there I sold some books and met some amazing people like this month's spotlight: Denise D. Cooper. Denise and I met when she walked past my table at the festival and we started conversing. As a Booktuber (a person who reviews books on Youtube) an artist, and just a fellow lover of books we had quite a bit to talk about. Below is a little snippet from our conversation, including things like how Denise balances her many endeavors and why it is important that she does just that.
M. Haynes: Hey Denise! How are you?
Denise Cooper: I'm great. I feel amazing.
M. Haynes: It was such a pleasure to meet you at the Festival.
Denise Cooper: It was great. I loved it. So glad I got to go.
MH: Tell us a little about what brought you to that event.
DC: Books! (laughs) Black authored books. I've always had a love for books; my dad was a professor at Mississippi Valley State University and my other read a novel a week. She read everything from non-fiction to Donald Goines. My mother actually gave me the first book that really stuck with me. I'll never forget it,it was Manchild in the Promised Land by Claude Brown.
Why does that book stick with you?
It made me love books by Black men. That book was just amazing. It made me want-no need to read more Black man stories.
So is that how you choose books to read and review? Do you ever "stray away" from Black man stories?
I don't know if I can ever really branch off. Black male writers introduce me to everyone else. Like with me being from Kansas I read a lot of Langston Hughes, and I really appreciate the encouragement he gave Alice Walker. She is probably my favorite Black woman author. Richard Wright is another of my favorites and he lead me to Ta-Nehisi Coates.
That's good. You should share those connections, and the books, with people.
I do! I always give books away to Black men and women. I even have a name for what some folks call "Black chick lit". I don't like that name so I call them "girlfriend books". You know, the type of book that you hand off to your girlfriends like "Girl read this." I think we need to circulate our greats, because honestly we have to get away from the ODWM* and get into some new classics, and we'll only get them if we let some other people be the connections.
I definitely hear that. So once you pick a book how do you go about reviewing it?
Truthfully my reviews are very passionate. They are all about how I felt reading a particular book; it's like a reader's vlog**. I reviewed Ruby by Cynthia Bond and I had to give reactions every day I read the book. I saw a lot of other authors in that book; I saw Hurston and saw Janie walking around jilted when I read that book. I thought "Oh my God this is Morrison, Everett and Walker! What are they doing here?" It was frustrating, but I ended up I giving a 5-star review to the book because I loved it by the end. That's how my reviews are, very passionate.
Are they any challenges to approaching reviews like you do?
There's always the human element involved. That one where you have to ask "Who am I to review this book?" The Booktube** community is supportive, but that element still rears its head every once in a while. Like one Booktuber, Retired Book Nerd, gave me a shout out on her channel that was so sweet it made me cry. At the same time, there are some reviewers whose videos make me wonder did I really read that book.
Talk a little bit more about the Booktube community.
I first joined Youtube for my kids, painting and talking to them so that they would have videos to watch of me when I pass. I found Booktube by looking at one of my favorite artists, Kara Walker, one day. Another Booktuber, Dominique from The Storyscape, was doing a video on her sugarphinx. I remember back when it was just nerds with dark lighted rooms talking about books. Now these are actual Youtube "stars"; the pretty little white kids getting millions of views and followers. I really appreciate the Black Booktubers and I became one of them; I love being able to connect with people and really meet them and talk with them. And we still have an influence within our community. I remember at the Festival there was an African woman from North Dakota who came all the way down to Texas just because she saw one of my book reviews. That's the community, the positive community, that I love.
Book reviewing isn't your only claim to fame. Talk to us about some of your other forrays into works of art.
I LOVE art. I have painted for ten years, I even have work in the Lenora Museum of African American Art*** in Fort Worth,TX. I was always deep into my art, when I owned the gallery I couldn't work on my art as much due to running the business side.
Oh wow!
(laughs) yeah I'm an artist.
How did you get started as an artist?
I used to work at it as much as I could when I was younger. I think so much of the world around me inspired me. I even have a story about a time when I had to come to terms with my art. I also make dolls, and one day I went to the fabric store to make a doll. So I got jet black material for the dolls' skin, some reds for the lips, and some other materials like yarn for their hair and African print fabric for their dresses. I put together my doll and I was proud of it...then I realized that I made a really dark doll with red lips.
Oh no...
Yes. I sat there and cried and asked "Why did this happen?" I was proud of my doll but I was also scared of what this meant. Things always have a way of coming out. Like I chose the skin because I thought of my mother and her dark skin, but the fact that when I was called a little black sambo once when I was a kid and told to get out of the store, I felt maybe that story was inside of me somewhere and came out. So
I decided that if this was what society was saying Black people were like and that we should be ashamed of being Black. Well, I love being Black Therefore, it was easy to love my Black Dolls. I COULD CARE LESS WHAT SOCIETY WAS SAYING OR THINKING. I LOVED THEM BECAUSE THEY WERE BLACK DOLLS I MADE. I called them my Sam dolls instead. And I sold out.
You reappropriated it.
Exactly.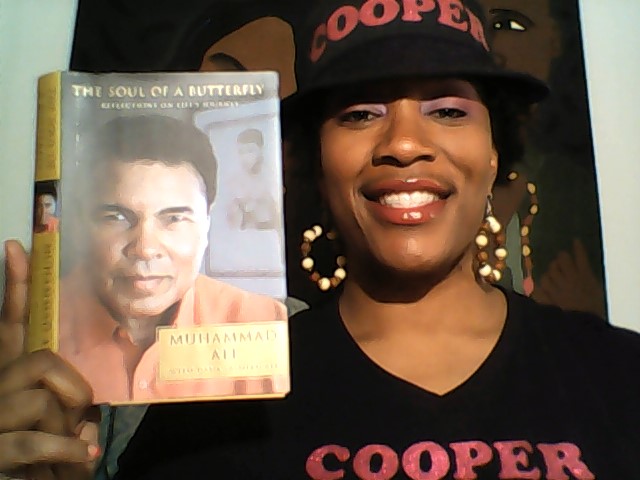 Does the art you create get influenced by your reviews and vice versa?
Definitely. My art started with writing, and that started with reading. I wrote poems and self-published some, so when I paint I'm painting my poems. I think all art is connected in that way.
What do you feel like this art you create does for the people who buy and/or see it?
I think that my art sells because of me; the personality and the sense of community the buyer gets from me just being me. I'm an artist 24/7 and people just buy a little piece of me to take home with them (laughs). That's actually part of why I bought your book. Here I saw this young Black man with a smile and an HBCU Grad shirt. When you buy a person's art you buy a little bit of them, not necessarily their business.
Thanks for that.
I mean it. I feel like our art, these little pieces of us everywhere, motivate other people. Motivate them to love others, love themselves, and to create. Art grows and keeps expanding the imagination, and when you are exposed to art you can't help but feel it too. Creating builds creation.
Who are some of the people who you feel help you create?
I'm inspired by everybody (laughs). I love the 30 Americans. Basquiat. Frida Kahlo. Kehinde Wiley. I love these people who are are "Black on purpose". The ones who are free to be unapologetic and intentional. I also listen to Toni Morrison's books on tape and Jay-Z a lot when I paint. I remember Jay-Z saying that you have to find what you love to do, and then "tuck yourself in and live there." I think that's true. You choose your mastery, whether it's living on the corner, writing, making movies, painting, whatever. You find your thing and you live there, and those artists live in a place that I think overlaps with what I want to do.
Okay last two questions. What is your end goal?
I think I'm living my end goal. You walk in my house and you see my art all over the walls. You see my eight bookshelves. You see my drum set. You see that an artist lives here. Honestly I'm living how I want to die; surrounded by art. I used to want to "make it" as an author, but since I'm not materialistic once I put my work out and people read it I felt accomplished. I wanted to put my work in that museum and I did that too. I do want to own another art gallery one day but right now I'm just enjoying myself. I'm living the way I want to live because I created it this way.
Is there anything else you want to leave the readers with?
(pauses) Support. Support. Support. Support independent artists. Support Black artists; that's why I think the National Black Book Festival is so important, because it's about support. We can't just support the big names while the small ones are left out. I would also say live how you truly want to live. What you do now could be the foundation of where you tuck yourself in. Remember that whatever you do for years on end will become your mastery. So when you dedicate yourself to something just be ready, because that will be your Masters degree.
* = Old Dead White Men. Denise is referring to the persistent idea that the only people and stories worth reading are the "old dead white men" that people hail as the classics.
** = A vlog is a video blog. Think if I recorded me saying everything on "The Ratchedemic" instead of typing it. Booktube is a Youtube community dedicated to reading, reviewing, and talking about books. Like most mainstream things, it can get very white very fast, hence the importance of Black Booktubers like Denise, the ones that make sure that more than the ODWM are discussed.
*** = This art musuem was important for Denise to get into because when she first visited the museum she saw an exhibit on Brown v. Board of Education (which was of course in Kansas). Since Denise went to school with the children of Linda Brown Smith, being in the musuem with an image of her became a dream of hers. Of course, when she accomplished that, she had to ask herself, "What's next?"